One of the best ways to add value to your home is through your landscape. It is the first thing you see when you arrive. Make it look its best to add value to your home. Let our experienced landscape designer work with you today. Whether you are looking for a foundational planting design or a gathering area to bring you outside, let us be your first choice. Our services include plant installation, patio and hardscape installation, wood construction, and retaining walls and drainage systems.
YOUR LANDSCAPE – OUR DESIGN IDEAS – BUILT TO LAST
Design:
Whether you are looking for a foundational planting design to go around the exterior of your home or a personalized outdoor gathering area to bring you outside, let us be your first choice. Our design staff will work with you one-on-one through the design phase to make sure that nothing will be left out. We will draft out designs and images for you to see to help you visualize your space. Please call us and let our experienced landscape designer work with you personally today.
Outdoor Spaces:
Want to add value to the time spent with your family and friends outdoors? Then let our team design a custom space that is perfect for you. We will follow through on every detail from the design stage through the completion of the project. Our team focuses on you and works to make outdoor living easy for your family and your friends.
Patios and Hardscapes
Wooden Structures
Landscape Installation:
Looking to add to or redesign a landscape bed that you already have? We will be happy to assist you on the plant bed shape and size for the area. We will also choose plant materials that will be sure to last a long time and also not outgrow the intended area. From evergreen shrubs to blooming perennials, we have a plant choice for you.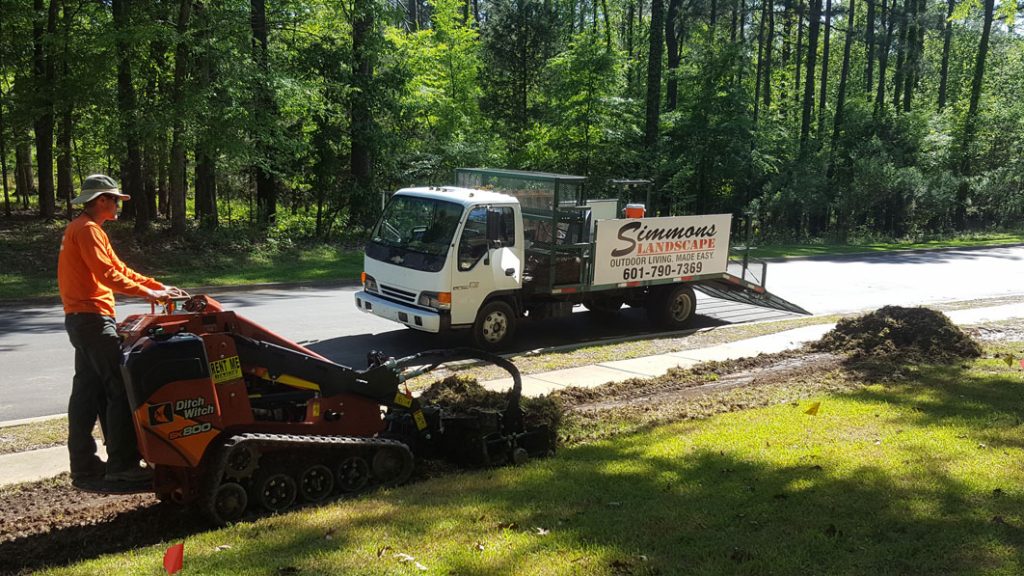 Sod Installation:
When you pull up to your home, one of the first things you notice is your lawn. How does yours look? Do spots look bare? Does it need to be replaced? Simmons Turf excels in providing top quality sods for lawns in the Jackson Metro Area. Our team will remove any old sod if needed and will make sure that the ground is properly prepped and graded for the new sod. We have many different sod choices available.
Irrigation and Drainage:
In Mississippi, we have hot, dry summers and cold, wet winters. What does that mean for your lawn? It may mean your grass doesn't get the amount of water it needs in the summer to look its best. Adding an irrigation system is a solution that will last for many years. In the winter months, parts of your lawn may stay too wet and cause a decline in the grass greenup phase in the spring. A french drain or drain tile may be needed for your area. Please call us today and we can help you decide what's right for your lawn.
Outdoor Lighting:
A well-thought-out landscape lighting design will bring your landscape to life even after the sun has gone down. Landscape lighting creates a relaxed and calm feeling that allows you to enjoy your outdoor space at night. It also helps bring a sense of security to your home by having your home light up and be seen from the street. You will not want to leave out this important feature of your next landscaping project.