Our landscape management program at Simmons Turf, LLC, is performed by a professional landscape management team throughout the entire calendar year. Our staff will work hard to ensure an inviting lawn environment throughout the seasons. This program includes:
Mow all turf areas weekly with a rotary mulching mower during the growing season and as needed throughout the dormant season, including leaf drop. All grass clippings are to be returned to the soil to provide organic plant nutrients. All grass areas are to be mowed at the appropriate height dependent on the time of year and prevailing weather conditions.
Trim all turf areas around trees, fences, utility standards, irrigation heads and steel edge borders weekly during the growing season with a line trimmer.
Edge all hard surfaces weekly during the growing season with a hand-held edger to insure a crisp neat appearance. Planting bed edges are to be kept clean and well defined from adjacent turf areas.
All planting beds will be checked for weeds and general debris will be removed as needed.
Clean all hard surfaces of debris with the use of a backpack blower one time per visit.
Trim all shrubs, ground cover, and non-flowering vines as necessary using the appropriate pruning technique to maintain the desired shape and size of the plant material.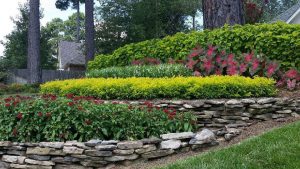 Annual Color:
The finishing touch to a well-maintained landscape is a great seasonal color display. Our services offer both summer and winter seasonal color designs that provide spectacular annual flowering beds for both sun and shade gardens. Let our team work with you today to create your award-winning landscape.